Hi there… How's it going? Probably not all that great or you wouldn't be here looking for help. No worries. Teens have been emailing me since 1997 because I give good advice. If you've got a problem with friends, so-called friends, a bf/gf, a parent, or anything else… email me. I can help you sort out your feelings. No matter what's going on, you always have choices. And choices matter because sometimes the stuff we do to "fix" a problem only makes things worse. You don't want to go there. Instead, let me help you figure out your next best move

In friendship,
Terra (aka Annie Fox)
November 3, 2014
To tell the truth, I don't remember how I met Vicky Thornton and Jen Rehberger. We probably connected on Twitter, as so many do. But I totally remember each of my visits to their podcast
What Really Matters?
where we always get real about 21st century parenting challenges, swap personal parenting stories, and laugh... a lot. I'm a big fan of their work and was delighted when
Vicky
and
Jen
each took the time to review
The Girls' Q&A Book on Friendship: 50 ways to fix a friendship without the DRAMA.
They were also kind enough to interview me for their show (to be posted soon). And if that weren't support enough, they are hosting today's stop on my
blog tour.
Here's one of the tricky questions Vicky and Jen asked me for the tour.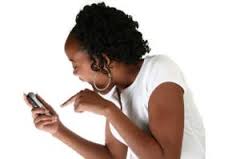 I'm missing out on... everything!!
Question: My parents won't let me have a phone yet and I am the only one of my friends without one. They are texting to each other all the time and I am left out. I really want one, but I will not be able to get one until next year. More »

From Terra's Inbox
"I'm getting addicted to cigarettes."

"Can genital touching and/or oral sex cause bleeding?"

Hey Terra,

I have started to smoke and I'm not proud of it at all. And if my boyfriend finds out he will ignore me for days and for him I really want to quit but I'm getting addicted to it now. Have you got any suggestions for me to quit?

Young Smoker

Hey Terra,

I'm a 19 year old female who just began an "active" sexual relationship with my boyfriend of 2 and 1/2 years. We have not engaged in sexual intercourse but we do experience in oral Sex and have been for about 2 months. However, every time we experience it, I tend to bleed a little bit (spot) for a few days afterward. I figured this was normal the first two times because I've never had anything (not even as much as a tampon) inserted into my vagina. He is not rough by any means when his fingers are inserted into my vagina, he has even increased in his gentleness after we spoke about this. I...

Read Terra's Answer »
Read Terra's Answer »