Hi there… How's it going? Probably not all that great or you wouldn't be here looking for help. No worries. Teens have been emailing me since 1997 because I give good advice. If you've got a problem with friends, so-called friends, a bf/gf, a parent, or anything else… email me. I can help you sort out your feelings. No matter what's going on, you always have choices. And choices matter because sometimes the stuff we do to "fix" a problem only makes things worse. You don't want to go there. Instead, let me help you figure out your next best move

In friendship,
Terra (aka Annie Fox)
"My friend smokes pot but it doesn't bother me."

"How can I tell if he has a gf without asking him?"

Hey Terra,

One of my friends smokes pot, but it doesn't interfere with our friendship whatsoever, and I love that. But I think I upset him, because one time he asked me if I wanted to get high, and I thought he was kidding so I said "no!" in kind of a snobby way and he got really mad! If I knew he was serious, I would've been nicer. It happened a while ago, but it still bugs me. How do I bring it up and apologize to him without sounding like it bothers me that he smokes?

Smokeless Friend

Hey Terra,

I love this boy in my class but he says he has a girlfriend. But he might being lying like me because I tell everybody that I have a boyfriend but I don't. How can I tell if he really has a girlfriend without asking him....????

Lover

Read Terra's Answer »
Read Terra's Answer »
June 23, 2016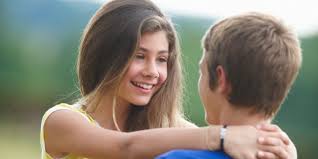 What does she think it means to have a boyfriend?
Sometimes our kids say they're ready for the next step toward independence and we totally agree. We celebrate the milestone, brief them on the house rules, making double sure we're all on the same page, then we let them go and hold our breath. When they stumble, we listen with compassion and as much patience as we can muster. We help them evaluate their mistakes and we hold them accountable. And they do better next time.
That's how we all learn.
But sometimes we're just not convinced they're ready, no matter how fiercely they lobby us. Then what? That's where this mom finds herself...
Dear Annie:
Is it okay for my 12-year-old to have a boyfriend if she seems emotionally ready? She seems pretty mature when it comes to situations like this, but is she too young? – Worried Mom
Important question. Glad she asked. Here's my response...
Dear Worried Mom:
Is this an abstract question coming from your daughter or does she already have a boyfriend and is trying to back-date the permission slip?
You ask "Is it okay?" and you sign your letter Worried Mom. That tells me you don't think it's okay. It doesn't matter what I think. She's twelve. You're her mom. You make the rules. But it's not always that simple, is it? Twelve-year-olds can be super persistent. More »