Hi there… How's it going? Probably not all that great or you wouldn't be here looking for help. No worries. Teens have been emailing me since 1997 because I give good advice. If you've got a problem with friends, so-called friends, a bf/gf, a parent, or anything else… email me. I can help you sort out your feelings. No matter what's going on, you always have choices. And choices matter because sometimes the stuff we do to "fix" a problem only makes things worse. You don't want to go there. Instead, let me help you figure out your next best move

In friendship,
Terra (aka Annie Fox)
"How can I get him back?"

"How can I avoid being used again?"

Hey Terra,

I was in a relationship with a guy for 9 months. I just broke up with him because I wanted to know if he truly cares about me. I felt that the love between us was getting really dim. We were still in love but because of my sensitiveness, I was not worth his time anymore. He said sorry when I broke up with him. I was disappointed he did not try to win me back. I end up hurting even more. And now I really regret that I broke up with him. How can I get him back without sounding stupid. I feel afraid, because I was the one who broke up with him. I'm afraid that he totally lost his feeling for...

Hey Terra,

I dated this guy a short time and he started going on business trips. He'd gush over the phone about how he missed me, and then he would come home and things were strained. After a couple of days he would assure me he loved me, wanted a future with me, blah blah. He promised me a beautiful life with him if I could be patient. So I became determined to stand by him and be a good girlfriend. The fights worsened, usually about something I did while he was gone, like the fact that I'd gone out with friends he didn't approve of, etc. I convinced myself it was the pressures of being away. He...

Read Terra's Answer »
Read Terra's Answer »
July 17, 2017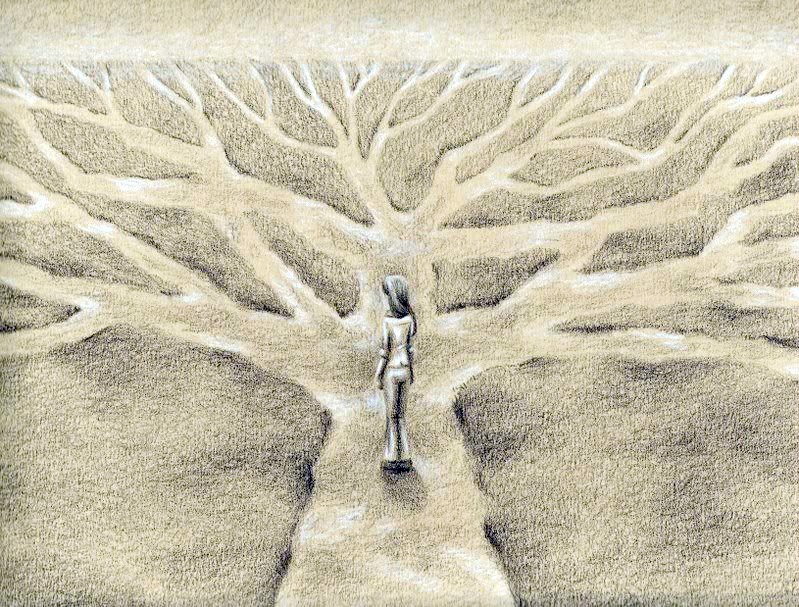 Life is for learning where you're going. .
When you were seventeen did you have a clue about what you wanted to do with your life? I only knew that I wanted to go to Cornell University and to have a boyfriend. (I might be messing with the order of my past priorities.) Did I know what I wanted to study in college or what I'd do with my degree once I graduated? Nope. But I don't remember feeling pressure about it either. Not from my mom or any adults. That was a simpler time, after school counselors but before the invention of the word 'stress.'
Many of today's teens (and their parents and counselors) feel differing degrees of anxiety around the whole career-thing. I had a 6th grader tell me the thing he was most stressed out about was getting into medical school. So I wasn't surprised by this recent email from a seventeen year old. Saddened by the unnecessary pressure she's putting on herself, but not surprised.
Teen: I'm about to start my senior year in high school and next year I'll have to choose my college course. I feel pressured every time people ask me my ambitions for the future. I understand they worry about me, but repeating over and over again the same question makes me want to remain a child forever (although I'm 17).
But the worst is when people ask about my grades. They say, "With such high grades you can choose whatever you want." That really doesn't help, it does not reduce my options. I know what I don't want but I don't know what I want. I'm also freaked at the idea of having the same job forever. More »